3 NEW TRACKS ADDED TO THE 2020 F1 CALENDAR
Author:
anwr
Date:
July 27, 2020 21:29
Comments:
0
Viewed:
1963
With Formula One back on our screens over the last few weeks it would be easy to forget that corona virus might still play a role in the already disrupted season. Now it's been confirmed that the pandemic will do exactly that. Three races in the Americas have been scrapped with Europe taking on the responsibility to replace them.
What races have been lost?
The three races that have been removed from the race calendar are Brazil, Mexico and the US. The reason being that in all three locations, the corona virus outbreak has more of a severe grip meaning it's been deemed unsafe and unfeasible to deliver the said races.
The Americas schedule was due to play out across October and November. The changes are obviously a bitter pill for every country to swallow but the US race, which takes place in Austin, Texas will perhaps cause more disappointment than most given they were expecting a record crowd.

It's not all bad news though with the alterations just a temporary measure whilst the world battles with "challenging conditions". That means the jilted venues will be back in the calendar for next year.
Who is picking up the slack?
Like we say, it's not all doom and gloom for F1. Three races have been lost but three have been drafted in as replacements. Europe is believed to have better control of the virus with travel between the respective race destinations easier to navigate working in its favour too. With that in mind, all three of the new races will be held in Europe. 
The first will be held at Germany's
Nurburgring
, before races at
Portimao
in Portugal and, finally, we'll have the San Marino Grand Prix at
Imola
.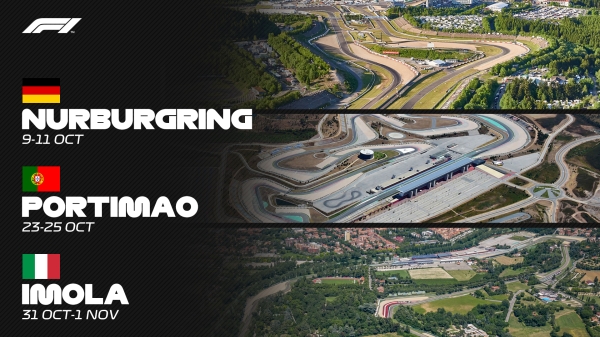 Just because they weren't part of the original plan though don't think they don't have much about them. The Nurburgring was the circuit that saw Niki Lauda's Ferrari burst into flames after his frantic crash back in 1976 and, whilst extensive remodelling has taken place it's far from dull with a combination of long drawn out corners, hairpin bends and sections where drivers can really kick it.
Where Imola is concerned, Williams and Ferrari have been the dominant teams of the past with eight wins each, but it's probably best known for being the track that tragically saw Roland Ratzenberger and Ayrton Senna lose their lives in 1994.

Finally, sandwiched between those two races is a return to Portugal, who haven't hosted a Grand Prix in nearly a quarter of a century. Portugal witnessed Alain Prost conquering the Gran Prix of Portugal 3 times, when the race was happening in Estoril. For the circuit in question, the
Autodromo Internacional do Algarve
, it will be a F1 debut.
Is it a Europe only calendar then?
At the moment, yes. The 2020 schedule will be held in Europe alone. That isn't the longer-term intention but, ultimately, the spread and subsequent control of coronavirus will determine what happens. That said, the chances of a wider calendar are reducing with each cancellation.
In addition to those in the Americas,
Canada saw it's race scrapped
a while back due to their travel restrictions as opposed to the virus itself whilst Asia has also seen casualties with Japan and Singapore binned for the year with China almost definitely not coming back to the fold. Not all is lost though, and it's believed the F1 top bosses hold optimistic views concerning four other non-European venues in Bahrain, Malaysia, Vietnam and Abu Dhabi respectively.
Regardless of what the end schedule looks like, it has already been confirmed that 2020 will be seen as a legitimate World Championship meaning it's all to race for. 
Who will come out on top?
Sometimes disruption can present opportunity to those who would ordinarily feature further down the pecking order. Look at the horse racing event, the Kentucky Derby, who normally happens in May, but was postponed to September: the change allows opportunities for betting sites like
TwinSpires
and new racers surge as favorites.
On what concerns F1 though, it looks like the excitement will just have to come from new tracks and general racing. The reason? It's two-fold.

For one thing, Mercedes are the dominant force with three wins from three to their name. Then you have the second reason, Lewis Hamilton.

The Brit is currently has six World titles to his name meaning glory in 2020 will bring him level with the all time leader that is the legendary Michael Schumacher. Given he already has two wins to his name and a lead at the top of the standings then you have to accept he's odds on to be crowned Champ again.

Comments